Picking a compound bow that fits you and your hunting style is a critical choice. Not only will you have to carry your bow around for the entire hunting season, it is a huge factor in that deciding moment that ultimately determines whether or not you are successful.
A bow that is the right choice for a given hunter is like an extension of their body. They can operate it smoothly and it is a precise fit for optimum efficiency.
The wrong hunting bow can create a multitude of complications:
If the draw weight is too great the hunter may not be able to smoothly and stealthily draw the bow on game. Once the bow is drawn, the shooter may also have problems holding it steady while preparing to shoot.
A bow that does not fit correctly is more difficult to aim.
If you buy a bow that is too heavy or not compact enough it can be a serious burden if you hunt where you cover a lot of ground or travel through brush.
Bows that are too heavy or not good fits often create bad shooting habits.
Not buying the right bow the first time around will often be more expensive since you have to buy a replacement.
Clearly, there is more to picking a bow than just going with a popular brand or the right camo pattern. But, with a myriad of options out there, how do you know which bow is for you?  This article will guide you through the process and hopefully help you arrive at the right bow for you.
Best New Compound Hunting Bows, Tested and Ranked 
This bow ranked best in nearly every category, easily winning this year's test. For several years, a signature Bowtech feature has allowed the shooter to change the feel of the draw cycle to suit his or her shooting style. Older models used a disk with three possible settings, but newer models, including the Realm SR6, use a module system that lets you choose either the Comfort or the Performance setting. This is much more user-friendly. We tested the SR6 on both settings but scored it on the Performance setting. Even with that more demanding draw cycle, the bow was one of the smoothest shooters in the test, and it was also the test's speed champion, at 349.1 fps. Part of that is due to the strategically placed weights in the Overdrive Binary cam system (the feature is easy to see; the weights look like pairs of brass buttons on both cams).
The Realm SR6 was also the accuracy winner, with our four panel shooters averaging 1.07-inch groups. Objective testing showed that it had little vibration, earning it third place in that cate­gory. At 86 percent efficiency, it was the most efficient bow in the test. Its only stumble was in the noise test, where it finished in the middle of the pack. The Realm SR6 handled well and looks good too.
 2. MATHEWS Vertix
It'll be no surprise to fans of the MATHEWS Triax and Halon series that the Vertix was the quietest and most vibration-free bow of the test. It uses the Crosscentric cam, but it has an updated Switchweight system that allows you to change peak draw weight and length by swapping a module. The Vertix also has a dovetail mount on the riser to accommodate QAD's new UltraRest MXT—a system that could send Berger bolts the way of the single cam.
The Vertix was the heaviest bow in the test at nearly 4.7 pounds. In addition to middle-of-the-road speed (337 fps), the draw cycle was more demanding than we expected, and it lost ground in the accuracy category, with our panel averaging 1.37-inch groups.
For a few years, long-axle-to-axle bows rode a popularity wave that's since subsided. But the Elite Ritual 35 proves that a longer bow can still hold its own. We found that this bow settled on target better than anything else in the test, and that helped its handling score. It finished only slightly behind the Bowtech in both the accuracy and draw-cycle categories. We averaged 1.12-inch groups with it (second overall), and across the board we loved the bow's smooth draw cycle, solid back wall, and deep valley.
The Ritual 35's middling scores in speed (336.7 fps), noise, and vibration kept it from finishing higher.
One of the handful of bows to break 340 fps, Hoyt's new Helix was also the second-quietest bow of the test. It scored solid marks for (lack of) vibration, accuracy, fit and finish, and handling too (though not everyone liked its grip). We docked the Helix some points on draw cycle because it's a little demanding on the front end; this bow certainly isn't as comfortable to draw as the three ahead of it.
It has a new ZT (Zero Torque) cam system that's available in two sizes to suit draw-length ranges of 25 to 28 inches, or 27 to 30 inches. It also has an interesting new Split-Cable system, which reportedly eliminates the need for a flexible cable guard.
PSE Archery's Evolve nearly won last year's test, and several of us liked this year's Evoke 31 even better. The bow's ultimate ranking even with that improvement speaks to the caliber of the competition this year. The Evoke 31 uses the Evolve Cam System, which provides 90 percent let-off. Its updates include a caged riser for enhanced strength, but it was still one of the best-handling models. It was the fifth-fastest bow of the test, at 339.7 fps.
The bow fell in the rankings in a few categories. Our panel averaged 1.48-inch groups with it, which was larger than the overall average. Like last year's Evolve, the Evoke 31 finished near the bottom in both our noise and vibration tests.
 6. Obsession FX30 (TIE)
 

Obsession FX30 (TIE) • 333.6 fps • $999

Hollis Bennett




 
The FX30 was another trim, lightweight bow that we shot pretty well, averaging 1.38-inch groups. It scored well in vibration, and in the middle of the pack for noise. At slightly under a grand, we gave it good value marks.
The Obsession had a hefty load on the front end of the draw cycle, but it fell into a decent valley with a solid back wall. That wouldn't have been a big deal had the Obsession hit its advertised IBO of 360 fps. Instead, it was the second-slowest bow of the test at 333.6 fps, a misrepresentation that didn't endear it to anyone on our test team.
7. Xpedition Mako X (TIE)
The 5-inch-brace-height Mako X looks fast, and it is. At 343.1 fps, it was the third-fastest bow in our test. (Though it still clocked in at 21 fps below its advertised speed.) It was also the lightest bow at 3.9 pounds. You'd think such a combination would make for a rattling contraption, but it didn't. The Mako X had the second-least amount of vibration in the test.
The Mako X has the harsh draw cycle of a speed bow, and we docked some points for that. It also finished in the bottom third of the accuracy rankings, with our testers averaging 1.51-inch groups. We found it to be a little tough to settle on target, costing it some points in handling.
 8. Prime Logic CT3
The Logic CT3 didn't drop the ball, but it finished middle-of-the-pack in most categories. It landed near the bottom of the field in accuracy, and at 326.4 fps, it was the slowest of the test. Although the bow had arguably the best back wall of any bow tested and settled on target nicely, we averaged 1.6-inch groups with it.
Still, if you've come to like the style and signature feel of a Prime, you'll love the CT3. It's a better bow than last year's original Logic in just about every way, but especially value—the MSRP on the Logic CT3 is a full $200 less than 2018's model.
 9. Bear Perception
The shoot-through riser on the Perception made the new Bear a visual standout. It looks heavy but is surprisingly light at 4.3 pounds. It was speedy, second only to the Bowtech at 345.5 fps, and the fit and finish were the best I've seen from Bear.
But the Perception had problems, including more vibration than any other model. Shoot-through risers are popular with some target shooters, but we found loading arrows to be a hassle that would be amplified with broadheads in a treestand. Worse, it was the most difficult bow across the board for our team to shoot. It had a spongy back wall, and we found ourselves fighting the valley at full draw. Combine all of that with a high price tag, and this bow couldn't compete.
Factors to Consider Before Purchasing
With a wide array of bows on the market, it may be difficult to find the exact one you want.
It is very similar to shopping for a new vehicle. If you don't know what kind of car or truck you want, then with so many decisions, it would be easier to just walk to wherever you want to go.
But, by breaking everything down, the decision almost presents itself "What will be my main use for the vehicle? Work, transportation or play?".
Once you have that figured out, you can narrow your search down and get on the right track for a car or truck.
This same idea applies for archery, "What will my main use for the bow be? Hunting, target shooting, recreation?".
Most people get into archery for competition shooting or hunting.
In this section we focus on features and specifications that make up a good compound bow for hunting.
Speed
With hunting in mind, it seems that speed is the one thing that grabs a hunter's eye more than anything.
Ten to fifteen years ago, if a bow could shoot over 250 FPS, it was a jaw dropper. With all the current advancements, some bows are now capable of shooting up to 370 FPS.
Jumped String
Anyone who has ever archery hunted seems to have the same story to tell. As soon as they shoot at an animal, the animal moved right before the arrow even hit it. This is called jumped string.
This sickening sight causes any hunter to think back and wish that he or she had a faster bow for it to give better shots, more accuracy, lower arc, and a more ethical kill. With that in mind, it is essential to make sure the bow's speed is right where you want it.
Just to remind you that speed isn't everything.
Achieving Accuracy
With the thought of "speed isn't everything" in the back of your mind, there is one thing that should be rated higher than speed.
Don't get me wrong. I love the fact that we can shoot as fast as we can. But as long as my bow shoots around 300 FPS, I am shooting an arrow the full length of a football field in one second.
So can I shoot an apple off someone's head the full length of the football field? Of course, I would never try that, but that brings up the next major point — accuracy.
Brace Height
Besides consistency in shooting and a well-tuned bow, brace height plays a huge part in accuracy. It is the measurement from the grip of your bow to the string where you place your arrow. The taller the brace height is, the easier it is to shoot the bow.
However, the taller the brace height is, the slower your bow shoots. So when the brace height is smaller, the faster and less accurate the bow shoots. Before you take less accurate to heart, let me explain.
The majority of shooters find the 7 inches brace height to be optimal, 6 inches are considered as speed bows and 8 inches are competition bows. So anything out of the 6-8 inches range are bows for special purpose.
Focusing On Getting Better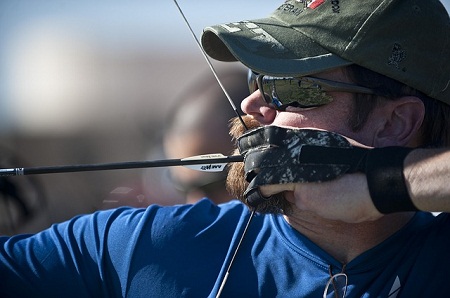 The difference would be similar to me trying to play golf against Tiger Woods when he was in his prime. I could use the same golf clubs that he used and he would have smoked me.
The reason is because his golf clubs were blades, meaning the sweet spot was a lot smaller to hit. So his form had to be perfect for his shot to play out exactly how he wanted it to.
This same example fits perfectly for a small brace height. If you have perfect form and you are able to do the same thing every time, then the brace height won't make much of a difference and you will want a shorter one to help with speed.
But if you torque your wrist or are shaky when in the valley of the draw, then your shooting will suffer immensely.
The main thing is to first learn how to shoot a compound bow properly, and then after a lot of practice you should start worrying about advanced factors like brace height.
Weight
Again, your bow's weight is dependent on your purpose. If your goal is for recreation or target practice, then you can use a heavier bow and set it down between shots.
If it is for hunting, then it is important to note that you will be carrying your bow, gear, arrows and everything else for as long as you are hunting. It can be quite exhausting to carry your hunting gear and to hold your bow up or even at full draw for certain lengths of time.
Now, when a manufacturer advertises the weight of their bow, remember that they are referring to the dry weight. You still have to account for the weight from the sights, arrows plus broadheads, rest, and quiver.

Just a small tip if you plan on hunting, it is suggested to practice shooting your bow with a quiver full of arrows and anything else you might have on your bow when trying to harvest an animal.
Understandably, the amount of weight that the quiver full of arrows is very minimal. But when crunch time comes, muscle memory is all you will have to do as you draw and release your shot.
The weight of the quiver on the side of your bow may not throw you off when shooting something like 30 or 40 yards. But if you are trying to reach out to 60 yards, it may affect you more than you think.
Let-off
Let-off is basically the amount of mechanical relaxation that your bow achieves at full draw, which is measured in percentage. It is usually the same proportion with the bow's peak draw weight.
If your bow is set to 60%, it means that as you draw the bow back it is 60 lbs, but once you get close to full draw the weight reduces. This way you can pull a bow back and hold it at full draw.
This fantastic invention allows the shooter to have time aiming without added shaking if you had to hold the full 60 lbs. This ultimately will increase accuracy.
If you are hunting, then this is the whole reason you are shooting a compound bow — to be able to pull back 60 pounds and hold at full draw for as long as you can until the animal steps out from behind the tree or turns and gives you an ethical shot.
Importance of let-off in hunting
The greater percentage will allow more time at full draw and give you more hunting opportunities instead of becoming fatigued and needing to lower your bow.
Many hunters know that in that moment from when you pull your bow back, you need to hold perfectly still while your heart is beating out of your chest.
If you become fatigued and lower your bow, usually that drastic move will cause the animal to see you and to stop in their tracks. These are reasons why hunters choose a high percentage so they can avoid many disappointing experiences.
Make sure to check your state's rules and regulations as some states have a requirement that a compound bow cannot exceed at a certain percentage of the let-off.
Draw Length
Knowing your draw length will narrow your options and make everything a bit less overwhelming. This is done in different ways but it measures your wing span or one arm up to a certain point.
It gives a great guideline for setting up a bow with what should be comfortable. If you have too long draw length, then you will be pulling the highest poundage a lot of further back into your draw and it will cause other inconsistencies.
A shorter draw length is also hard and requires you to bend your elbow or not get the bow back to your anchor spots against your face.
Choosing the length of draw
I highly recommend getting fitted at a pro shop for any bow you want to buy or even try to shoot. Draw length is probably the most important aspect and setup you need to shoot a bow correctly.
It does not only create consistency but it also greatly reduces injuries like slapping your forearm with the string, to hurting your shoulder if pulling the bow back too far.
Some of the modern compound bows have the ability to adjust the draw length fifteen to twenty inches right there in your living room. Other bows require different cams or machines to change the draw length.
Any pro-staff can easily figure out your draw length with you there in their shop. But here's a simple technique for you:

Draw Weight
Understand that not all bows are versatile when it comes to the poundage. Many bows are designed with a  10-pound adjustment window.
For example, you can purchase a bow that will have the lowest weight setting at 50 pounds and the max that it can be set to is 60. These bows may require different cams or limbs to withstand the new weight. Then there are bows that can be set from 13 to 70 lbs.
Recommended Ranges for Modern Compound Bows
| | |
| --- | --- |
| Very small child (55-70 lbs) | 10-15 lbs |
| Small child (70-100 lbs) | 15-25 lbs |
| Large child (100-130 lbs) | 25-35 lbs |
| Small framed women (100-130 lbs) | 25-35 lbs |
| Medium framed women (130-160 lbs) | 30-40 lbs |
| Athletic older boy kids (130 lbs-150 lbs) | 40-50 lbs |
| Small framed men (120-150 lbs) | 45-55 lbs |
| Large Framed women (160+ lbs) | 45-55 lbs |
| Medium framed men (150-180 lbs) | 55-65 lbs |
| Large framed men (180+ lbs) | 65-75 lbs |
State Regulation
Some states have minimum poundage that you must have your bow set to attempt to take big game.
When I first turned ten and was old enough to deer hunt in my state, I knew the minimum poundage for Arizona was 40 lbs. I shot my bow every day and did as many pushups as I could to try to meet that goal.
It took me a couple of years, but I finally got my bow set at that weight.
The reason for the minimum poundage is a great and much needed law. As any true hunter understands, an ethical kill is something that is always desired.
If your bow is shooting a lower poundage and a lower amount of kinetic energy then even with a perfect shot, you may just end up wounding the animal you are after. Just like draw length, some bows can be easily adjusted at home in a matter of seconds.
Sights
The sights on your bow allow you to pin point how high to hold your bow depending on how many yards you are from your target.
For many, they would have a pin set at 20 yards, the next would be at 30 yards and so on in increments of 10 yards. With the modern advancement in bows, understandably the accuracy has progressed in leaps and bounds. Sights are one of these progressions.
Different Types of Sights
It seems there are more options with different sights than there are with bows. From floating pins to 7 pin setups, the options are limitless.
If your bow doesn't come with a sight, you need to understand the area and style you will be hunting. Tree stand, still hunting, ground blind, spot and stalk. Each sight has a benefit for those different styles of hunting.
7 pin sights are ideal for spot and stock or still hunting. This allows you to approach an animal or jump one and quickly find the pin depending on the distance.
The floating pin or adjustable single pin is perfect for ground blinds or tree stands where you can adjust the sight to where the animal may be standing.