Women's hands are different from men's hands. Women's hands are smaller and generally not as strong as a man's. In fact, their bodies are generally smaller as well. It's just basic anatomy.
While this certainly doesn't mean that women can't shoot a handgun just as proficiently as a man can, it does mean women may have a preference when it comes to types of handguns they carry and shoot, especially if your goal is to carry the firearm concealed.
Whether you are looking for a handgun for competitive shooting, self-defense or just for fun, you want a handgun that is comfortable to use and provides reliable performance. The best handgun for you will be the right size, weight and caliber for your needs, as well as being easy to operate and enjoyable to shoot. While many of the best handguns for men can also be excellent handguns for women, the best handguns for women will also be slim enough to offer a comfortable grip and light enough for concealed carry. The top handguns for women are lightweight and compact, yet powerful enough to get the job done, whether they are used for target shooting, recreation or self-defense.
CONSIDERATIONS FOR THE BEST HANDGUNS FOR WOMEN
When shopping for a handgun, there are several factors for women to consider, including the size and weight of the gun and how easy it is to shoot. Because women often have smaller hands and less upper body strength, the best handguns for women will typically be compact and lightweight.
The caliber of a handgun has a significant impact on how light or heavy the felt recoil of the gun will be. Many women enjoy handguns chambered for smaller ammunition because they produce less recoil and are more comfortable to shoot. However, the intended use of a handgun should also be taken into account. A handgun used for self-defense must be a powerful enough caliber to protect the shooter while remaining light enough to shoot comfortably. For concealed carry, a gun must be slim and lightweight enough to carry throughout the day without fatigue. A handgun used for competition shooting should have a snappy trigger and large enough magazine capacity.
Here are a few considerations for the best handguns for women:
Caliber: The majority of small handguns are chambered for .380 ACP or 9mm ammunition. Both of these calibers provide sufficient power to stop a threat with a light enough recoil to manage comfortably. While 9mm handguns have stronger felt recoil than .380 ACP handguns, this is often balanced by the larger size of 9mm handguns. 9mm ammunition is also suitable for a wider variety of uses from self-defense to competition shooting, making it a very versatile caliber.
Recoil: A gun with a light felt recoil will be more comfortable to shoot without causing the shooter's arm to become tired. Lighter recoil also allows for more accurate follow-up shots when necessary. Recoil is determined by the caliber of the gun, as well as its weight and size, so some small and light pistols can still have high felt recoil. Because felt recoil will vary from person to person, the best way to test the recoil of a particular handgun is to shoot it for yourself.|
Size: If seeking a concealed carry weapon, choosing a small and compact handgun that can fit inside a bag or holster is critical. Typically subcompact or ultra-compact models will be the best choice for concealed carry. However, if seeking a home defense weapon, a shooter may opt for a larger handgun as larger pistols are often easier to shoot accurately. The grip width of a handgun also impacts how comfortable the gun will be to hold, and a gun that fits the shooter's hand will have less felt recoil.
Weight: Heavier handguns often have lower felt recoil, but can be more difficult to aim for shooters with weaker arms. For a concealed carry weapon, weight also impacts how comfortable the pistol will be to carry throughout the day. Look for a handgun with a weight that provides manageable recoil and comfortable shooting.
Magazine capacity: For competitive shooting, a larger magazine capacity may be desired. Compact handguns are available with double-stack magazines for greater capacity. For a self-defense weapon, a single-stack magazine will usually be sufficient.
Safety features: Different pistols offer different safety features, such as protection against accidental firing if the handgun is dropped. A manual safety and heavier trigger pull weight can also improve the safety of a gun but may make it more challenging to shoot. Beginner shooters should seek guns with sufficient safety features and should receive adequate training on how to use their gun properly.
Reliability: When used for self-defense, a handgun must provide reliable and consistent performance. Choose a gun with a reputation for reliability and test it at a firing range using your own ammunition. A reliable gun should also be easy to use, even in high-stress situations.
Aesthetics: While the function and comfort of a handgun should be the first priority, there are also many options for different colors and styles of handguns. Shooters can choose guns with textured or patterned grips to suit their taste. A variety of handgun accessories are also available for further customization.
The best handgun for a woman will depend on the shooter's personal preferences and needs. Keep these factors in mind as you search for the perfect handgun for you. To begin your search, we've gathered a few of the top handguns for women that offer excellent performance in a comfortable size and caliber:
1. SIG P365
Beginning our list of the best handguns for women is the celebrated SIG P365. This concealed carry handgun from SIG Sauer was recognized as the 2019 Handgun of the Year by Shooting Illustrated and the 2018 Handgun of the Year by Guns & Ammo. This slim 9mm micro-compact pistol is designed for easy concealability, reliable performance and extended ammunition capacity.
The 1-inch wide grip of the SIG P365 is comfortable to hold for those with small hands, while its 3.1-inch barrel provides improved shooting accuracy. With a stainless steel frame and slide, the SIG P365 weighs 17.8 ounces, making it lightweight yet well-balanced. This striker-fired pistol offers a clean and crisp trigger pull for enjoyable shooting.
But the crowning feature of the SIG P365 is its extended capacity that holds 10 rounds while maintaining a small size comparable to other micro-compact pistols. With an overall length of just 5.8 inches, the SIG P365 is a perfect choice for a woman seeking a concealed carry weapon that packs a serious punch.
2. SIG P320
SIG Sauer's P320 striker-fired 9mm pistol boasts excellent accuracy and reliability, as well as unprecedented modularity with a fully customizable grip. Instead of modular backstraps, the SIG P320 offers separate grip modules in several sizes to perfectly fit the shooter's hand size. Improved grip comfort can lead to better shooting performance and accuracy, as well as creating a more enjoyable shooting experience.
The full-size P320 measures 8 inches overall with a barrel length of 4.7 inches, making it one of the largest handguns on this list. Weighing a hefty 29.6 ounces, the P320 may not be a woman's first choice for a concealed carry weapon. However, the 17-round magazine and excellent sighted accuracy make the P320 perfect for target shooting or home defense.
The P320 is also available in a subcompact version that measures 6.7 inches overall and weighs 24.9 ounces while offering the same smooth and crisp trigger pull and reliable performance of the full-size models. The P320 Nitrogen Subcompact is perfect for shooters with small hands or for concealment.
Attesting to its exceptional performance, the SIG P320-M17 was chosen as the Modular Handgun System for the U.S. Army. Civilians can purchase the P320-M17 with the same coyote-tan PVD coated slide and coyote-tan grip as the military version, or choose from a variety of colors and styles in other P320 models. Falling in a middle price range, the P320 is an attractive, powerful and reliable handgun for women.
3. SIG P238
The SIG Sauer P238 is a great choice for women seeking a classic style of handgun chambered for .380 ACP. Modeled on a 1911 frame, the P238 has an all-metal frame, yet weighs only 15.2 ounces. Its caliber and comfortable grip produce a lighter felt recoil, making the P238 comfortable to shoot and handle. However, its short barrel length of 2.7 inches can make accuracy more challenging for beginner shooters. Measuring only 5.5 inches overall, the SIG P238 is easy to conceal in a small bag or purse.
While more on the expensive side, the SIG P238 is a reliable pistol and available in a variety of colors and configurations to suit any shooter. The SIG P238 is also easy to maintain, requiring no tools for field-stripping.
4. KIMBER MICRO 9
Kimber's Micro 9 is another great option for a compact handgun on a 1911 frame. Produced by one of the most well-known manufacturers of 1911 handguns, the Micro 9 features the signature short single-action trigger pull of a 1911 to improve accuracy and performance. The Kimber Micro 9 also offers a quick magazine release and easy reloading.
Weighing just 15.6 ounces and measuring 6.1 inches overall, the Kimber Micro 9 is designed for concealed carry. The mild recoil and slim grip width of the Micro 9 make it comfortable to shoot for beginners and expert shooters. Although the Kimber Micro 9 is in a higher price range, it is built to last with a strong and durable stainless steel barrel and aluminum frame.
5. GLOCK 19
The Glock 19 is a very popular 9mm handgun that is perfect for self-defense or competitive shooting. While the Glock 19 is heavier than other handguns on this list, it is still light enough to handle comfortably at 21.5 ounces without the magazine. With an overall length of 7.28 inches and barrel length of 4.02 inches, the Glock 19 is small enough to carry concealed, yet large enough to shoot accurately.
The Generation 4 and 5 versions of the Glock 19 include a dual recoil spring system which provides a lighter felt recoil. The trigger pull weight is also relatively light at about 6 pounds, making the Glock 19 easy and enjoyable to use. Because this gun requires very few controls to operate and has a consistent trigger pull, beginners can quickly feel comfortable shooting this handgun. The Glock 19 also offers excellent safety features including a safe action system that protects against accidental firing if the pistol is dropped.
Another feature that makes the Glock 19 one of the top handguns for women is that both the Gen 4 and Gen 5 models offer a customizable grip size. The Glock 19's modular backstrap system allows the shooter to adjust the grip size easily to fit their hands comfortably. The Glock 19 can also be modified easily to fit right- or left-handed shooters. Because the Glock 19 is such a popular handgun, it is also easy to find grips, holsters and other accessories in a variety of styles and colors to truly customize your pistol.
For competitive shooters, the Glock 19 also offers an enlarged reversible magazine catch for faster reloading.
6. GLOCK 43
The Glock 43 is another popular Glock pistol chambered for 9mm ammunition in a single stack magazine. Weighing just 16.23 ounces and measuring 6.26 inches overall, the subcompact Glock 43 is extremely lightweight and concealable while still boasting some serious power. Its slim design is just over an inch wide, making the Glock 43 comfortable for smaller hands to grip. The grip also features a textured surface and beaver tail shape for tighter and more comfortable pistol operation.
With a barrel length of 3.41 inches, the Glock 43 is easy to shoot accurately at a close range. For ease of maintenance, the Glock 43 requires no tools to field-strip. Like all other Glock handguns, the Glock 43 is extremely reliable and is a trustworthy handgun for self-defense.
7. S&W M&P SHIELD
Smith & Wesson's M&P Shield is a lightweight and slim 9mm pistol that is easy to shoot and highly concealable. With a grip width of less than an inch, the Shield is perfect for shooters with smaller hands. The Shield also offers a longer grip height, resulting in a tighter grip, better recoil control and overall improved shooting accuracy.
The Shield features a corrosion-resistant polymer frame with a stainless steel chassis system. Weighing 20.8 ounces, the Shield is comfortable to carry all day. For long-term durability, the Shield's barrel and slide are coated with stainless steel.
As a striker-fired pistol, the S&W Shield offers a consistent and short trigger pull as well as an audible reset. For easier target acquisition, the Shield has a 5.3-inch sight radius. Priced at under $400, the Shield is an affordable option for a reliable 9mm pistol.
8. S&W M&P 380 SHIELD EZ
As its name suggests, the Smith & Wesson M&P 380 Shield EZ is designed for easy use and maintenance in every aspect. This .380 ACP handgun features a magazine that is easy to load and a slide that is easy to rack, so beginners can be comfortable shooting the 380 Shield EZ in no time. The 380 Shield EZ can also be disassembled without pulling the trigger and is designed for easy cleaning.
Weighing 18.5 ounces and measuring 6.7 inches overall, the 380 Shield EZ is suitable for concealed carry or home protection. Its crisp trigger features an audible reset for more comfortable shooting, and its 3.7-inch barrel offers improved accuracy, making it a great choice for beginners or experienced shooters.
9. S&W M&P BODYGUARD 38
For women who prefer to use a revolver, the Smith & Wesson Bodyguard 38 is simple to operate and offers manageable recoil. The S&W Bodyguard 38 has a synthetic grip that helps reduce felt recoil and is comfortable to hold. For improved accuracy, the Bodyguard 38 has an integrated laser sight with ambidextrous laser controls. In high-stress situations, the laser sight can also give the shooter a psychological advantage.
The Bodyguard 38 weighs just 14.4 ounces and measures 6.6 inches, making it a great choice for a concealed carry weapon. With a sleek black matte finish, the Bodyguard 38 is an attractive, yet powerful, revolver.
10. S&W M&P BODYGUARD 380
Chambered for .380 ACP, the S&W Bodyguard 380 is ultra-lightweight and easily concealable. Weighing just 12.3 ounces, the Bodyguard 380 is the lightest handgun on our list. Yet despite its weight, the Bodyguard 380 is still a powerful self-defense pistol when loaded with quality ammunition.
The S&W Bodyguard 380 measures 5.3 inches overall, making it perfect for concealed carry. Its extra-slim 0.77-inch grip width is comfortable for small hands, and the magazine provides an extended finger grip for a more reliable hold. The 9.5-pound trigger pull weight of the Bodyguard 380 can be challenging for some shooters but adds a level of protection against accidental firing. Although it has a short 2.75-inch barrel, its lighter caliber makes the Bodyguard 380 easy to control and aim accurately.
11. WALTHER PPS M2
This 9mm compact handgun from Walther features a slim profile and overall length of 6.3 inches, making it an excellent choice for concealed carry. First introduced in 2007, the Walther PPS M2 has evolved over time to feature a more ergonomic and aesthetically pleasing design. With a 1-inch width and comfortable grip, the Walther PPS M2 fits nicely in small hands. Shooters can also choose varying grip lengths to suit their preferences.
Weighing 21.1 ounces, the Walter PPS M2 is on the heavier end for its class but offers a 3.2-inch barrel for comfortable shooting. The Walther PPS M2 has a moderate and smooth trigger pull of 6.1 pounds. For competition shooting, the push button magazine release of the Walther PPS M2 allows for faster reloading. The Walther PPS M2 is also available with a built-in red laser for improved accuracy.
12. RUGER LC9S
This striker-fired pistol from Ruger improves upon its predecessor, the Ruger LC9, by resolving complaints about the trigger quality of the LC9, while retaining all the features that shooters loved. The Ruger LC9s offers a smoother and cleaner trigger pull with a trigger pull weight of just 4.5 pounds. The single-stack magazine features a finger extension that creates a longer grip surface and allows shooters with smaller hands to achieve a full grip.
Weighing 17.2 ounces and measuring 6 inches overall, the LC9s is a perfect concealed carry weapon. Chambered for 9mm, the LC9s provides sufficient power as a self-defense handgun. For peace of mind, the LC9s offers several safety features, including a manual safety, an integrated trigger safety and a magazine disconnect. Another feature that makes the LC9s a top handgun for women is its loaded indicator notch. This indicator on the back of the slide allows the shooter to confirm that the gun is loaded without doing a press check.
For women who desire an attractive gun, the Ruger LC9s is available in a range of colors and patterns, including bright purple and teal and sleek silver and black. Some models are available with decorated slides for even more flair. This high-quality handgun is both affordable and reliable, making it an excellent choice for a self-defense pistol.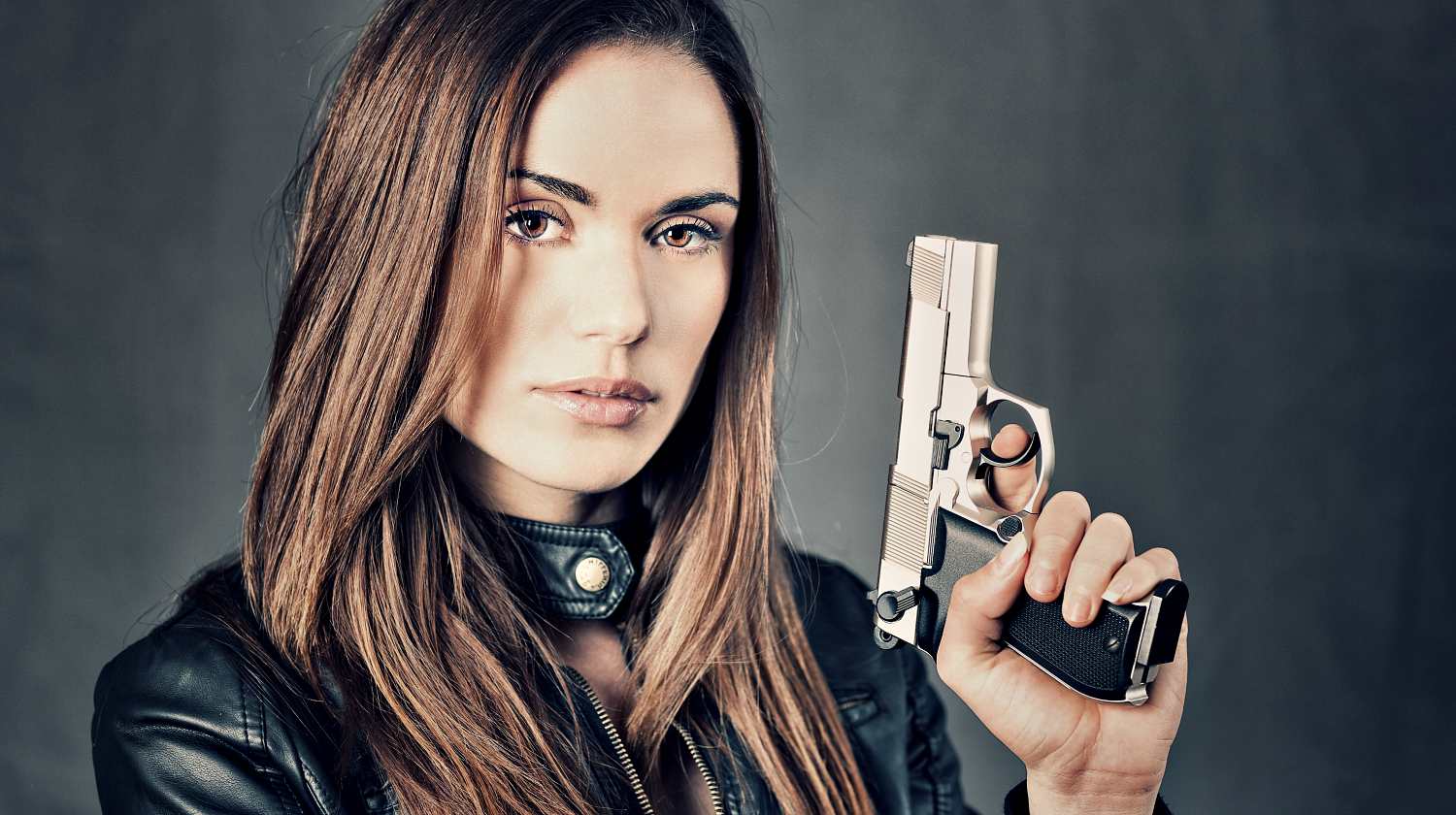 With so many models and styles of handguns available, it is essential to handle and test out any handguns that you are considering buying. Make sure the pistol has a comfortable grip and is the right size and weight for your intended use. Head to a shooting center to rent the handgun you are interested in to make sure you can manage the recoil and shoot the gun accurately. When you find the right handgun, it will be enjoyable and comfortable to use for recreational shooting, competition or self-defense.