Far more than an accessory, watches are capable of being used to do more than just tell the time. We all know the power that's contained in something as simple as a smart watch, so it makes sense there are a number of features and uses that could be applied to a watch used for the outdoors, too. Enter: Survival watches. With the ability to tell the temperature, direction, weather and more, survival watches are an essential companion to have alongside you for any outdoor activity for their useful features alone.
But, god forbid, should you get lost, they'll also be there to help you find your way back. While we definitely don't recommend relying on a survival watch alone (always make sure you follow the trail and do your research beforehand!), but you'll be thankful you have one if you accidentally take a wrong turn along the way. 
Our List Of The Best Survival Watches
Picking the best survival watches was a pretty challenging task. Due to the cost and impressive performance in the short term (most seem great at first), we had to source a significant amount of owner feedback and cross-reference that with our own reviews.
This took a significant amount of time, but in the end we're quite confident that we've come up with the best list you can find. All of the survival watches below do their job very well. Some are simple, and some are multifunctional.
But all of them can be trusted.
1. G-SHOCK Mudmaster Survival & Outdoor Watch By Casio
Casio is no stranger to creating some high-quality survival watches. The G-SHOCK Mudmaster is a great example of why the brand is so popular with adventurers and survivalists.
Mud, shock, and water resistant
Twin Sensor capabilities that provide instant access to direction and temperature information
25 months battery life before recharge
USA manufacturer guarantee
The body of the watch is ultra-durable. Made out of high-quality plastics, the housing is built tough. The perimeter is rugged and incorporates several shock-absorbing features to protect the watch during tumbles and bumps.
It's both shock and water-resistant. So, you can take this watch virtually anywhere without having to worry about damage.
That's not all. The watch also has a high-capacity battery! In total, it can last for 25 months when stored in total darkness.
The wristwatch is sporting an efficient solar charging system as well, providing you with even more power on the go.
In terms of features, this watch has a lot going for it. It offers directional information, temperature readings, and data about the barometric pressure.
The watch face is analog. However, a small digital screen provides additional survival data to help you out. It displays the compass information.
The face features LED lights, which come in handy in low-light conditions. Furthermore, the watch hands and dial numbers are covered in glowing paint so that you don't waste the battery to check the time.
Pros:
Durable and tough design
Efficient solar charging system
Multifunction
2. Eco-Drive Promaster Multifunction Altichron By Citizen
The Promaster Alicrhon by Citizen is a beautifully made watch that looks good in any situation. It has a sleek and sporty design that also looks professional.
Features a black-ion steel case with a black dial with red accent
Altimeter measures from 1,000ft to 32,000ft
Built in reliable compass
Eco-Drive technology allows your timepiece to charge in any light
It's sporting a compass, date clock, and altimeter. The altimeter deserves a special shoutout. It can measure altitudes between 1,000 and 35,000 feet!
While this watch is powered by Japanese quartz, it never needs a battery replacement. The watch captures solar energy to keep the internal battery charged at all times. It even responds to artificial light, ensuring that you always have power.
The body of the watch is built out of black-ion steel. Covering the face, you're getting anti-reflective mineral crystal. Both of these materials are quite durable. On top of that, the watch is water-resistant up to 200 meters.
The band is durable, too. It's made out of black polyurethane. The black makes it easy to pair with any outfit. Meanwhile, the synthetic material is flexible and doesn't soak up any water.
Pros:
Effective altimeter and compass
Strong anti-reflective mineral crystal face
Affordably priced
Cons:
Fewer bells and whistles than some of the other options on the list
3. G-SHOCK Rangeman Solar-Assisted Survival Watch By Casio
The G-SHOCK Rangeman is one of the best survival watches that money can buy. Also from Casio, it's a feature-rich watch with a wide range of functions that many other watches lack.
Capable of accurate GPS navigation
Triple sensor system measures compass bearing, barometric pressure, and temperature.
Extremely durable water and shock resistant build
Built-in solar charger
On the watch itself, you can track your journey or get accurate location information in real-time. The watch will also save data points so that you can backtrack or measure your progress as you make your way to your destination.
For even more functionality, you can connect the watch to your smartphone via Bluetooth. Within the available Casio app, you're able to view 3D maps and create routes.
Of course, we can't forget about the sensors. The Rangeman uses a triple sensor system to measure compass bearing, barometric pressure, and temperature. All of this information is accessible directly on the watch face.
Speaking of which, the watch face looks like your average digital readout. But the full LCD display can display graphics and data.
The entire watch is shock-resistant and water-resistant to 200 meters.
Despite the GPS technology, the watch has plenty of battery life. The GPS can run continuously for 33 hours on a full charge. Even if the battery runs low, you can turn the GPS and use the built-in solar charger to get more power. In the meantime, the watch face will stay on to provide you with the time.
Pros:
Accurate GPS navigation
Typical stellar G-SHOCK build quality
Easy to read watch face
Wade variety of functions
4. Core Military Men's Survival Watch By Suunto
Next up, we have this sleek watch from Suunto. The design of the watch is streamlined and low-profile. It doesn't have the bulk of some other survival watches on the market, making it a great option for everyday wear.
Altimeter, barometer, and compass functions
Comes with weather trend graph and storm alarm
Minimal and easy to use design
2 year warranty
The watch can track your altitude and keep an eye on the weather for you. In real-time, the survival watch uses the altitude to help you monitor your climb. It'll also record your travels and show ascents or descents.
The weather-tracking system is the most impressive feature of this watch. It's equipped with a standard barometric pressure monitor, which does wonders to help you predict changing weather patterns.
But there's also an intelligent weather alert feature. When the watch detects a sudden drop in atmospheric pressure, it will alert you to let you know that a storm is coming! That'll give you enough time to find shelter before the rain comes!
Another cool feature is the sunrise and sunset data. The watch has recording times for over 400 different locations around the world. You can plan your journey accordingly to stay safe.
Pros:
Great LCD screen
Reliable weather monitoring
Affordable
Cons:
Band could be a little more durable
5. Pro Trek Stainless Steel Quartz Watch By Casio
Need a watch that can provide accurate information? Check out this model from Casio. The Pro Trek is a quartz watch with very sensitive monitoring systems.
SALE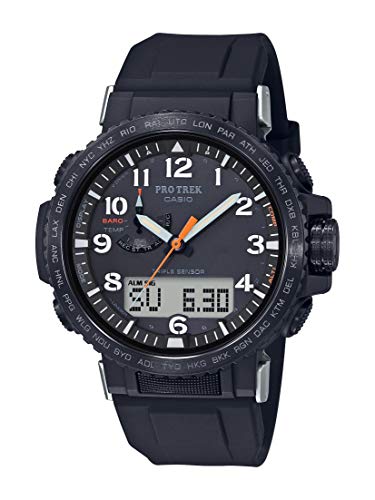 Efficient solar power survival watch
100m water resistant
Digital compass w/bearing memory, altimeter, barometer, and thermometer
Power-saving function
While it uses traditional quartz technology, it also has multi-band atomic timekeeping. Five or six times a day, the watch will receive a radio signal. The signal will keep the watch calibrated, ensuring top-notch time accuracy.
The watch's other features are powered by accurate sensors as well. The watch can collect data about your altitude, barometric pressure in the area, and the temperature. To do this, it uses the Pro Trek Version 3 Triple Sensor.
It's far more accurate than the basic sensors used on cheaper survival watches, which will make a big difference if SHTF.
The Pro Trek can also display which direction you're facing. Instead of relying on an analog gauge, the watch uses a digital display for precision.
Overall, the watch is very well-built. The housing is clad in stainless steel. It can hold up to a lot of wear and tear. It's even water-resistant up to 100 meters.
When it comes to battery life, this watch doesn't disappoint. Even with its high-powered sensors, the battery stays charged. That's thanks, in large part, to the integrated solar panel.
Pros:
Extremely durable
Multiple functions
Great value for the money
Cons:
Slightly less robust than the G-SHOCK
6. I.N.O.X. Pro By Victorinox
If durability is your top priority, you're going to enjoy this watch from Victorinox. Take one look at it and you'll immediately see that the timepiece is built to last whatever your adventures throw at it!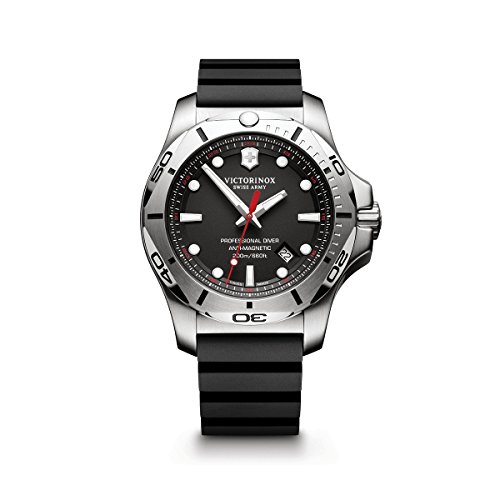 Swiss-made 45MM titanium
certified diving watch that meets rigorous NIHS 92-11 standards
Water resistant 200m
45mm case diameter 
As a result, you're getting all the protection you need without having to worry about the watch weighing you down.
Whether you're in a dense jungle or a muddy swamp, the watch will keep ticking. The mechanics are fully protected behind a water-resistant seal. It stays safe in depths of up to 200 meters.
This model comes with two different durable strap options. The first is a basic rubber strap. The rubber material is lightweight, flexible, and resistant to water damage.
The second strap is made entirely out of paracord. The lightweight nylon rope is woven into a thick and comfortable band.
If you ever find yourself in a situation where you need to tie something down, you can easily unravel the paracord. It's an additional feature that can cover your bases when you need it most!
Pros:
Well-made, durable face
Certified diving watch
7. Traverse Alpha Multifunction Survival Watch By Suunto
Here's one of the best survival watches from Suunto that deserves your attention. The Traverse Alpha watch has a rugged build and plenty of features to boot.
Features a rugged stainless steel bezel
GPS system tracks your location in the background
Moon phase calendar to aid hunting and fishing
Watch handmade in Finland 
High-quality materials are used throughout. The housing is knurled stainless steel. It's coated in a protective brown finish. Not only is it tough, but it looks great, too!
Covering the face is sapphire crystal glass. You don't have to worry about scratches or accidental shattering here! It's an ultra-durable material that offers exceptional clarity.
Finally, there's the band. The band is made out of nylon. The nylon band is water-resistant, easy to adjust, and comfortable on the skin.
Now, onto the features! This is a unique watch that is originally designed for hunters. However, there are more than enough survival features to keep you safe on your travels!
It's a GPS watch that can track your path. The watch will record GPS coordinates periodically to create a breadcrumb trail. Using the graphics on the screen, you can backtrack to find previous stopping points.
Pros:
Very durable design
Accurate GPS feature
Cons:
Readout design might be too minimal for some 
8. Expedition Gallatin Watch By Timex
If you're on a budget, this watch is a suitable option. The Timex watch isn't as feature-rich as some of the other models on this list. But don't let that deter you! It's sporting enough functionality to keep you informed on your journey.
Black dial with date window at 3 o'clock
Black 44 millimeter resin case with acrylic lens
Indiglo light-up watch dial
Water resistant to 50 meters
Covering the face is an acrylic lens. Inside, you'll find a beautifully designed face complete with glowing colors and hands. The watch lights up for better visibility as well.
A double nylon strap keeps the watch secure on your wrist. It's comfortable and will not soak up a ton of water. This is a great feature because the watch does have some water-resistance.
It will keep ticking to depths of approximately 50 meters. It can handle shallow waters and the occasional recreational swim.
9. NATO Strap Automatic Watch By Seiko
Here's a mechanical watch that does well in rough conditions.
It's made out of stainless steel. You can easily take this watch out to tougher environments without having to worry about excessive wear. To provide even more protection to the elements inside, Seiko applied a hard coating.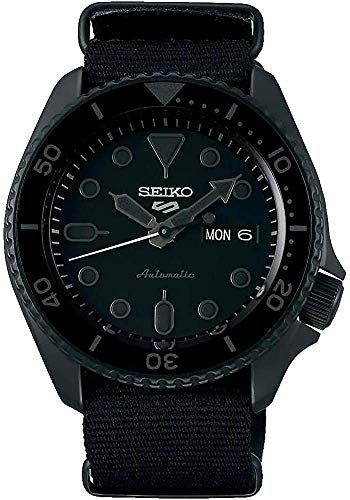 42.5mm watch
Made of sturdy stainless steel
Large dials for maximum visibility
Automatic watch saves power
A nylon strap is included. The strap features hardware made out of the same hard-coated steel.
In terms of features and functionality, this watch is pretty limited. It has a basic dial face with large dials for visibility. There's also a small date dial to help you stay on schedule!
One cool thing about this Seiko watch is that it's powered by movement. It's an automatic watch that doesn't use up a ton of power. So, it will stay on no matter how long your journey takes.
Pros:
Accurate
Strong hard-coated steel
Cons:
Lack of functions and compass
10. Leatherback Sea Turtle Giant By Luminox
The Leatherback Sea Turtle Giant watch from Luminox is great for survival situations. It has a tough build and some handy features that can make a huge difference on the field.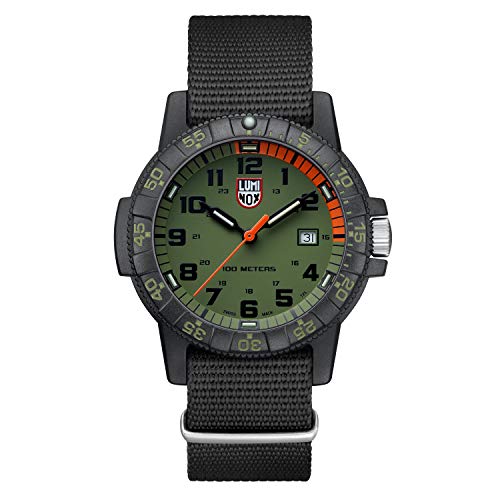 Black 44 mm carbon compound case
Unidirectional rotating bezel with Super-Luminova at 12H
Tempered scratch resistant mineral especially hardened
Water resistant to 100 meters
Covering the hands and perimeter is long-lasting glow paint. The glow effect doesn't dissipate after a few minutes. It can last for up to 25 years! Thus, you'll always be able to tell the time no matter how dark it is.
Overall, the watch is impressively durable. It's made out of a unique material called Carbonox. Not only is it weatherproof, but it resists chemical damage and thermal expansion.
Surrounding the face is a rotating bezel. You can use the bezel to keep track of time in other zones around the world. Thanks to the durable build, you can turn it as many times as you need without having to worry about it falling off.
Finally, rounding off the quality materials of this watch is the glass. Luminox used hardened mineral glass to protect the watch face.
Pros:
Made from strong Carbonox
Constant glow for visibility in the dark
Well-made rotating bezel
Cons:
Readability during the day is average
Limited functions
11. Swiss Army Watch By Victorinox
It doesn't get much tougher than this! The Swiss Army watch from Victorinox is ultra-durable.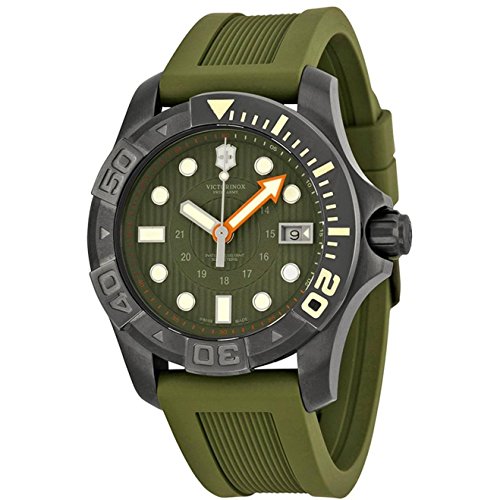 Stainless steel housing
Water Resistant to 500 Meters
Gun-metal bezel
Guaranteed 100% authentic 
Like the housing, it's built tough. It features an ion-plated coating. Yet, it manages to smoothly rotate without getting rusted or damaged.
The most impressive feature of this watch is its water resistance. The entire housing is sealed to prevent water penetration. It has a stronger seal than most watches on the market.
In total, it can withstand damage up to 500 meters!
Pros:
Watch face made from tough materials
Cons:
No additional survival functions
What Is A Survival Watch?
When disaster strikes or you're miles away from the comforts and conveniences of home, the best survival watches are going to be your lifeline that helps you get to safety.
Survival watches are multifunctional accessories that are purpose-built to help you find your bearings and make your way through harsh environments. While fancy designer timepieces and high-tech smartwatches might be luxurious, they won't do you any favors in a survival situation. All watches serve similar basic purposes, but standard models just don't hold a candle to survival watches.
Everything about survival watches centers around your safety. Not only do they tell time, but they provide a slew of other information that can mean the difference between life or death.
Most models these days provide you with a timepiece, compass, altimeter, thermometer, and barometer.
The compass and altimeter are particularly useful when you're lost in the wilderness. They can help you make your way to safety or give you the information you need to help rescue crews locate you.
Meanwhile, the thermometer and barometer help you understand the weather and your surroundings.
More advanced survival watches might take things a step further by implementing GPS systems and maps!
Beyond those features, survival watches are also built tough. What good are all of those advanced survival features if the watch stops working when you need it most?
This is one of the most noticeable differences between survival watches and traditional watches. You can sometimes find survival features in smartwatches, but they're usually delicate and rely on constant cellular connectivity to work.
That's not the case with a survival watch. They're built from tough materials that can usually withstand rain, wind, snow, and anything else that your environment throws at it! Manufacturers build these watches to take on anything, ensuring that they can keep ticking no matter what!
So, What Are The Advantages Of Using A Survival Watch?
In your everyday life, you can use a survival watch like any other watch. But the moment you're faced with a tough situation, they turn into a tool that you're going to rely on time and time and again.
Say, for example, that your city is hit by a natural disaster. Be it a hurricane or an earthquake, your watch can help get you and your family to safety. Use it to figure out where you are and find a path to the nearest safety zone.
The information provided on a survival watch will prove to be useful during every step of your journey. Meanwhile, any additional features hidden in the watch can help you get through obstacles that stand in your path.
Even if you're not in immediate danger, a survival watch comes in handy (which is why we have them on our INCH bag checklist). If you're an avid hiker or wildlife explorer, these watches let you stay in sync with your group. All you need to do is sync watches and create a meetup schedule.
Let's say that you get lost. When you don't meet up with your synchronized schedule, your mates can send for help. In the meantime, you could use your watch to find a high-altitude peak to get a clear view of your surroundings.
If you have a GPS-equipped watch, you can find the easiest path to safety or provide coordinates to the rescue team. Even without GPS technology, the compass and altimeter can improve your chances of getting found or making your way to safety.
As you can see, there are several advantages to owning a survival watch! The rugged build and multi-purpose nature of a survival watch makes it a worthy addition to your arsenal of supplies.
What To Look For When Picking One
Finding a watch marketed for survivalists isn't hard. But, not every watch is really cut out for true survival situations.
You have to cut through the marketing jargon and see what a watch really has to offer. Here are some things to look for you on your hunt for the best survival watch.
Time Accuracy
Believe it or not, not every watch out there has accurate time-keeping abilities. Full-featured watches often have several components connected to a single power source. This can lead to some fluctuations.
Losing a second here or there might not seem like a big deal. But a watch with 99.9 percent accuracy is off by about 1 minute and 27 seconds every day. In survival situations, every second counts!
Many watch brands provide time accuracy estimates in the form of percentages. This isn't always the case, but it's always nice to check. Go with the highest accuracy rating possible.
A watch with 99.998 percent accuracy will only be off by about 1 second every day.
Generally, quartz watches are more accurate than their mechanical counterparts. But, advances in mechanical watch design make those variances nearly indistinguishable these days.
Functions & Features
The more functions on the watch, the better!
Earlier, we talked a bit about some of the common features you'll see on survival watches. This includes basic time-keeping, a compass, altimeter, barometer, and temperature dial.
When it comes to finding your position, the compass and altimeter are most useful. The compass lets you know which direction you're facing while the altimeter indicates your altitude. You might also find some watches with depth indicators, which could be useful in ocean or lake settings.
The barometer and temperature gauge are great for hiking and wilderness adventures. Barometers measure barometric pressure, which could help you get a better idea of incoming weather.
You might also find some additional survival features you never knew you needed.
For example, built-in lights or a glowing watch face could help you out once the sun sets. Meanwhile, built-in solar panels could keep those features powered up during your travels.
Of course, there's also GPS. GPS watches are the most advanced of them all. They connect to several of the 31 operational satellites orbiting the Earth. Once connected, the GPS can triangulate your position.
Many GPS survival watches also have integrated map features. Depending on the complexity of the watch, you might be able to see topographical maps or notable land features to help you navigate the terrain.
Water Resistance
Whether you're wading through mud or trekking through a super-humid environment, water-resistance is a must. Luckily, water-resistant or fully waterproof watches are easy to find.
A water-resistant build protects the internals of the watch. It can ensure that moisture doesn't get in and render your watch useless.
Some watches are even submersible. You can easily find watches that will keep ticking away to depths up to 660 feet.
Shock Resistance & Durability
Survival watches must keep operating no matter what kind of bumps or falls they encounter. Keep an eye out for shock-resistant watches.
Generally, these watches utilize some kind of protective shell. You might see rubber lining the material or heavy plastic encasing all of the watch's mechanics.
Pay attention to overall durability. Survival watches should not have a problem with light drops or dings. Mother Nature plays nice with no one!
Having a durable watch lets you rest easy knowing that the information you need is always on hand.
Power Source
Many survivalists fail to consider how a watch is being powered. Quartz watches and high-tech smartwatches use a traditional battery. For quartz watches, that battery must be replaced at some point.
If the watch has several survival features, there's a good chance that replacement will come sooner rather than later.
As for smartwatches, battery life is notoriously low. Depending on the model, you may only be looking at one to two days of operation. Once the battery is depleted, you're out of luck!
Aim to buy watches that are efficient on power.
One good option is to choose a mechanical watch. Rather than using a battery, these watches rely on springs to operate. Thus, you must wind them up to keep the watch going.
Kinetic mechanical watches are available, too. These watches use the motion of your arm to stay powered.
Both options can serve you well in a survival situation because there's no worry about batteries involved.
Size
Next, you should think about the watch's size and overall design. Ultimately, the functionality of the watch is the most important thing to think about. But if the watch doesn't fit right or match your personal aesthetic, are you really going to wear it?
Survival watches can get pretty clunky. Some brands take physical protection to the next level and include housings that are quite thick. Those watches are great! But, they can also be uncomfortable and cumbersome.
If you want to stay comfortable during your adventures, choose a low-profile and slim design. Keep in mind that a smaller size could mean sacrificing some features.
At the end of the day, size and design are all about personal preference. Choose a watch that works for you and your wrist.
Cost
Finally, there's the cost. You can't put a price on survival. Luckily, you don't have to break the bank to get a good survival watch.
Prices can vary dramatically from one brand to the next. In addition to the available features included, materials largely dictate the price tag.
Cheaper models will utilize more affordable resin cases or steel that's coated with ABS. Those materials, while not as durable as some other options, still hold up very well in survival situations. Plus, they keep costs low without sacrificing performance.            
Take Your Pick
We hope you found this list of the best survival watches helpful. We spent a lot of time researching and testing to come up with these recommendations, and think you'll be happy with pretty much any of the products listed above.
If you have any questions or want to chime in with some additional feedback we'd love to hear from you. Just get in touch with us via our contact page!